Sentry Stucco Ultra Wall System
Premium impact and puncture resistant, rain screen design cement plaster stucco system with enhanced water management
---
Senergy Sentry Stucco Ultra
is a highly advanced Portland cement-based exterior wall system. Its features include a rainscreen design, a fluid applied air/water-resistive barrier, drainage mat, rustproof fiberglass lath, a base coat and textured finishes. Integrated system components include SENERSHIELD-R/SENERSHIELD-VB, DRAINAGE MAT DF, PERMALATH 1000, STUCCOBASETM/ STUCCOBASE PREMIX, BASE COAT with optional REINFORCING MESH, optional STUCCO PRIME, and 100% acrylic polymer finish. Apply the system over the following acceptable sheathing: PermaBase Cement Board and other cement-boards conforming with ASTM C1325 (Type A-exterior), poured concrete/unit masonry, e2 XPTM sheathing (ASTM C1177), GlasRoc sheathing (ASTM C1177), SecurockTM glass-mat sheathing (ASTM C1177), DensGlassTM exterior sheathing (ASTM C1177), gypsum sheathing (ASTM C79/C1396), Exposure I or exterior plywood (Grade C/D or better), or Exposure I OSB.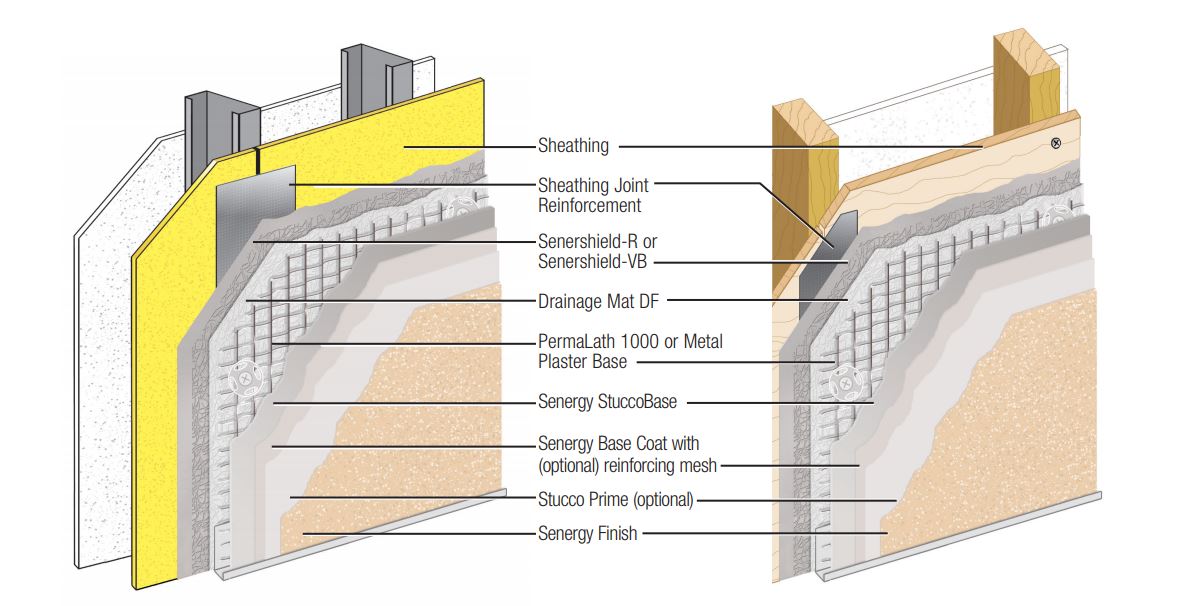 ---
Uses
New or retrofit residential, institutional and commercial low-rise construction such as hotels, hospitals, retail centers, schools, multi-family apartments and condominiums, and government facilities.
---
Advantages
Rain screen design provides added protection against the effects of incidental moisture intrusion.
Fluid applied air/water-resistive barrier provides a durable, seamless building wrap.
Three-dimensional drainage mat provides a drainage plane for maximum drainage and drying performance.
Available self-furred glass fiber reinforcing lath in durable plaster base that will not rust.
Factory prepared STUCCOBASE minimizes potential site mixing errors; improves quality control.
Acrylic modified base coat over STUCCOBASE enhances water resistance performance and finish coat aesthetics.
Reinforcing mesh option further increases crack resistance.
Very resistant to impact and punctures; good for high traffic areas.
Fade, abrasion and dirt-resistant finishes contribute to low maintenance and life-cycle costs.
EPS shapes integrate into the system for economical architectural detailing; more valuable appearance.
Go Back